Overview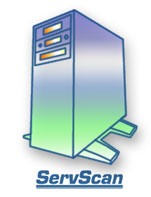 Omnitrend's ServScan™ is an application for monitoring the status of Windows 2003™, Windows 2000™, Windows XP™, and Windows NT™ computers… both servers and workstations. It is a service that remotely monitors Event Logs, alerting administrators to specific errors and events.
The major operational goal of ServScan is simplicity. Today's network administrator simply does not have the time to install, configure, and maintain complicated monitoring products. ServScan circumvents this by providing a product that is easy to install, and a snap to administer. It is also completely self-maintaining.
ServScan is a service-based application, and therefore runs as a service on the machine on which it is installed. From this single install point, ServScan queries event logs on remote servers and workstations. No additional software need be installed on any other computer. Installation takes about 5 minutes.
Once installed, the configuration has been simplified into three basic steps. First, you identify the servers and workstations for which you wish to monitor. Next, specify the devices to which notification alerts can be sent. Last, configure event filters… that is… identify the types and specifications for event logs that should generate alerts.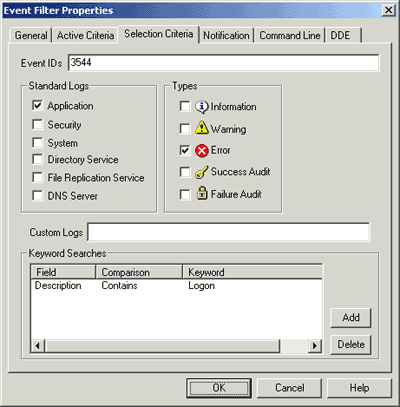 This last step, although basic in its concept, is an ongoing process. Should an event occur for which you want to be notified in the future, you simply add it to the filter list. Templates are included with pre-configured filters for Security, DNS, DHCP, WINS, Active Directory, and Cluster Server problems. Additional modules are included to specifically monitor Exchange 4.x/5.x and Exchange 2000/2003 servers.
Apart from this ongoing tweaking of event filters, ServScan requires no further attention.
Alerting methods include Email, Pager, Text Messaging to Cellular Phone, and Network Messaging. Alerting "devices" may be grouped so that multiple individuals can be notified. There is even a feature to provide for notification of different individuals based on time of day.
Product Features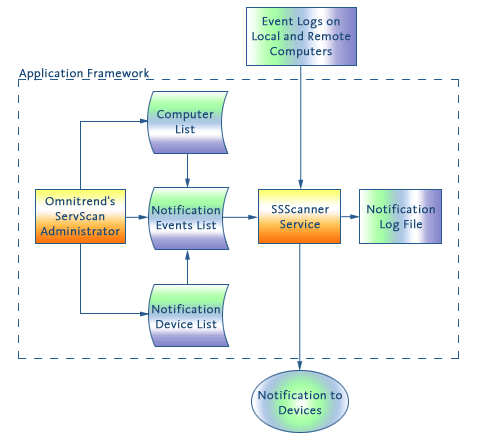 Omnitrend's ServScan is comprised of two main application components. The first, SSScanner.exe, is a Windows service that performs the actual monitoring for events. The second component, ServScan.exe, is the administrative tool that permits configuration of the software.
In the figure to the right, these two components are represented by the blue boxes.
There are three database components to Omnitrend's ServScan; Computer List, Notification Events List; Notification Device List. These databases are maintained using the administrator component.
The Computer List is a database of computers that can be selected when creating Notification Events. The Notification Device List is a database of devices that can receive notifications when events occur that meet the criteria for an item in the Notification Event database.
The Notification Event database is used by the SSScanner service to determine what computers should be scanned. SSScanner examines the items in the database and scans only the computers for which items are configured. Effectively, then, not all computers on the Computer List will be scanned. For efficiency, only computers for which there is a Notification Event List entry configured will be scanned.
In a nutshell, the SSScanner service scans Event Logs for which there is at least one Event Log Filter configured, process events through the filters, notifies devices if an event passes a filter, and records the notification in the Notification Log file.
Note that the ordering of filters in the Notification Events List is important. Events are processed through the filters in order. Once the event passes a filter, it not be processed through the remaining filters in the list... even if that event meets the selection criteria for a filter farther down the list.
Supported Notification Devices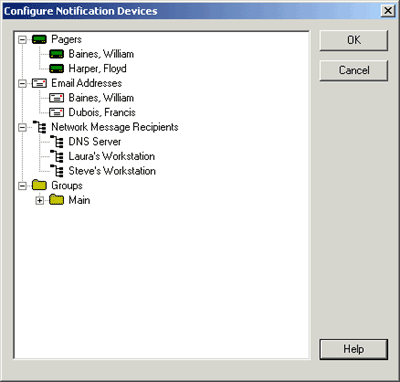 Email
ServScan can send alerts via Email using either MAPI or SMTP. When configured for MAPI, ServScan will utilize whatever email client is installed on the computer. When configured for SMTP, ServScan will connect directly to an SMTP server to issue Email.
Pager
ServScan supports sending alerts to numeric and alphanumeric pagers. All of the latest protocols are supported; DTMF for numeric pagers and TAP, SNPP, and WCTP for alphanumeric pagers.
Cellular Phone
ServScan supports alerts to cellular phones that support text messaging (often referred to as SMS for Short Message Service).
Network Messaging
ServScan can issue alerts as Network Messages. Network Messages are pop-up windows that appear on a specific computer when an alert is issued.
Specifications
General

Name:
ServScan
Version:
3.0
Released:
2005

System Requirements

Processor:
Intel
Operating System:
Windows NT, Windows XP, Windows 2000, or Windows 2003
Memory:
256mb Minimum
Modem:
If pager or cell phone alerts are desired: At least one Hayes-compatible 2400 baud or faster required for TAP and DTMF protocols. A WinSock-compatible Internet connection is required for SNPP and WCTP protocols.
Internet Connectivity:
A WinSock-compatible Internet connection is required for the SNPP and WCTP protocols
Mail System:
If Email alerts are desired: A MAPI-Compliant Email client or connectivity to an SMTP server.

Text Messaging Support

Types:
Alphanumeric Pagers (1 and 2-Way), Cellular Phones (SMS 1 and 2-Way), Numeric Pagers
Number:
Unlimited
Protocols:
Numeric Pager: DTMF with user adjustable delay, TAP, SNPP, and WCTP.
Alphanumeric Pager: TAP with password support, SNPP, and WCTP.
Cellular Phone: TAP with password support, SNPP, and WCTP.
Message Length:
Unlimited. Text is automatically split and delivered to a device in separate messages according to a maximum message length (user definable).
Error Correction:
Full TAP, SNPP, and WCTP error detection and recovery. Includes dial-tone detection and busy signal redial. Supports multiple access numbers for each device with automatic fallback to alternates on failure.
Pricing
Licensing

Number of Computers Supported

5

10

25

Unlimited

Omnitrend's ServScan 3.0
SS3-PR-5
$ 299
SS3-PR-10
$ 499
SS3-PR-25
$ 699
SS3-PR-U
$ 1,299
Note: License includes on-line documentation and thirty days of unlimited technical support.
Support

Number of Computers Supported

5

10

25

Unlimited

Extended Support 1 Year
SS3-SPR-5
$ 149
SS3-SPR-10
$ 249
SS3-SPR-25
$ 299
SS3-SPR-U
$ 399
Note: The extended support plan provides for one year of unlimited technical support.
Support

Number of Computers Supported

10

25

Unlimited

Upgrade of 5 Computer License To:
SS3-UPR5-10
$ 249
SS3-UPR5-25
$ 449
SS3-UPR5-U
$ 1,149
Upgrade of 10 Computer License To:
SS3-UPR10-25
$ 249
SS3-UPR10-U
$ 849
Upgrade of 25 Computer License To:
SS3-UPR25-U
$ 649
Version Changes
Support Notes
There are no additional support documents at this time.
Downloads
© 1992-2023 Omnitrend Software, Inc. All rights reserved.
All prices are in U.S. Dollars and are effective January 1, 2023.
Products and prices are subject to change without notice.
Omnitrend Software, Inc.
55 Abbey Road
Glastonbury, CT 06033-6106
+1 860-673-8910