PageMaster/ex Overview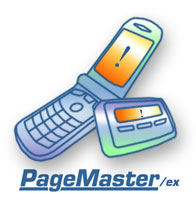 Now with PageMaster/ex 4.6, your entire organization can send pages and SMS (cellular) text messages using Microsoft Exchange Server. Exchange users may send or forward messages to "text message recipients." These recipients appear on global or personal address lists just as would any other type of recipient.
Messages can be sent to multiple devices or pre-defined groups of devices. The gateway also handles a mix of numeric and alphanumeric devices in the same group, sending just the numeric portions of a message to the numeric devices and the full message text to alphanumeric devices.
Text messages are transmitted to a service provider using one of six protocols: TAP, SNPP, WCTP, SMPP, SMTP, and DTMF.
Using the "Inbox Rules" or "Out-of-Office Assistant" in Microsoft Outlook, Exchange users can forward some or all of their Email messages to their pager or cellular phone.
When used with its add-on product, PageMaster/ol, PageMaster/ex can monitor the appointment and task reminders for selected users and forward reminders as text messages to their pager or cellular phone.
PageMaster/ex is available in two versions; Standard and Pro. The Pro version adds support for the SNPP, SMTP, and WCTP text messaging protocols, 2-Way pagers, and an enterprise-grade text messaging engine. The Pro version text messaging engine allows multiple access methods for each service provider. For example, you can specify that a service provider be reached primarily through their SNPP server. If the SNPP server is down, or if your Internet connection is down, PageMaster/ex will automatically fall back to alternate access numbers and protocols.
Support for the SMPP protocol is available as an add-on to the PRO version.
A version of PageMaster/ex to support Exchange 2000 and Exchange 2003 can be found here.

Click here for a printable product information sheet for PageMaster/ex.