Overview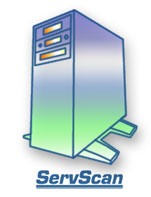 Omnitrend's ServScan™ is an application for monitoring the status of Windows 2003™, Windows 2000™, Windows XP™, and Windows NT™ computers… both servers and workstations. It is a service that remotely monitors Event Logs, alerting administrators to specific errors and events.
The major operational goal of ServScan is simplicity. Today's network administrator simply does not have the time to install, configure, and maintain complicated monitoring products. ServScan circumvents this by providing a product that is easy to install, and a snap to administer. It is also completely self-maintaining.
ServScan is a service-based application, and therefore runs as a service on the machine on which it is installed. From this single install point, ServScan queries event logs on remote servers and workstations. No additional software need be installed on any other computer. Installation takes about 5 minutes.
Once installed, the configuration has been simplified into three basic steps. First, you identify the servers and workstations for which you wish to monitor. Next, specify the devices to which notification alerts can be sent. Last, configure event filters… that is… identify the types and specifications for event logs that should generate alerts.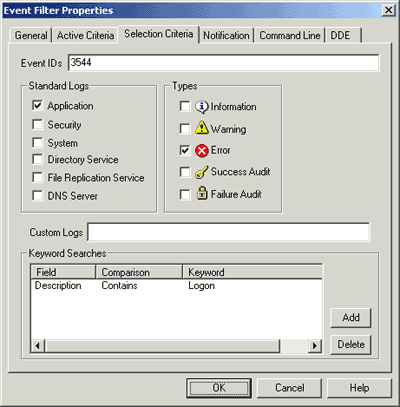 This last step, although basic in its concept, is an ongoing process. Should an event occur for which you want to be notified in the future, you simply add it to the filter list. Templates are included with pre-configured filters for Security, DNS, DHCP, WINS, Active Directory, and Cluster Server problems. Additional modules are included to specifically monitor Exchange 4.x/5.x and Exchange 2000/2003 servers.
Apart from this ongoing tweaking of event filters, ServScan requires no further attention.
Alerting methods include Email, Pager, Text Messaging to Cellular Phone, and Network Messaging. Alerting "devices" may be grouped so that multiple individuals can be notified. There is even a feature to provide for notification of different individuals based on time of day.

Click here for a printable product information sheet for ServScan.